#closer2closure
So, we've all experienced it. Heartbreak. Loss. Insecurity. Anxiety. I make music to help bring you closer to closure, because I never want you to feel like you need anyone else's permission, approval, or understanding to move on. You are amazing and the only person's validation you require is your own.
Now, Take Your Throne!
3 electric collections to match your mood & your playlist!
Make a statement. Turn Heads. Be Bold!!!
Have To Jump (Music Video)
Find Your New Favorite Tee!
Find your new favorite tee!
Find Your New Favorite Tee!
"Dangerously Pop"
When you listen to a Brandyn Killz track, you know it's him, because he's got that signature sound, especially in his perfectly unique vocal delivery.

Blogger, We Write About Music
Author, Jayson John Evans
The singer has a welcoming tone and impressive range.

CultureFix UK
Dance Floor crosses musical genres seamlessly and the hook is irresistable! ... Outta Control is exciting and in a Jackson-esque sort of way makes me want to move EVERY muscle!!

Artist, John C. Cozolino
The songwriting deserves some time on the radio and dance charts, really.

Artist, Jerry Douglas of The Peeces
Electro Jams. Entrancing and invigorating... 

It's Euphoric!!

Artist, Taylor Haun
The Brandyn Killz music machine rolls on with another new release that has him digging deeper into those retro throwbacks sounds he's been creating.

Blogger, The Q Review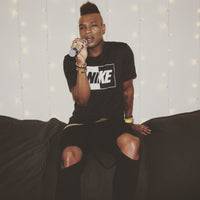 Music is so many things for me.
An escape. Joy. Therapy. Passion. Purpose. Another reason to smile & dance like nobody's watching. I create in hopes that it touches you the same way. Music is my gift to you. Feel all my energy and love. Let this music into your body.
GET YOUR FREE SONGS
Killz Essentials collection